BEHIND THE SCENES: Get to know Josh
In our first 'Get-To-Know' column we dive right into our Store Manager Joshua's mind. There's a big chance you've met him on the shop floor already, making sure everything is under control. In this article, we try to backtrace his inspirations, his view on fashion, and much more...
Hi Joshua, what do you do?
I'm the shop manager of OALLERY. I also manage E-com and the logistics. I've been working here for a year now, but have been visiting the store often since its inception.

What made you decide to come work here at OALLERY?
It's been kind of a coincidence. I've always wanted to work here since I believe it's the dopest store in the Netherlands, and it suits my personal style. I was working in a store before here, where I regained my love for retail, but the clothing that we sold didn't match my personal style. It was a nice job, but Covid came and I had to start looking for something else, then Sacha called me up and told me there was a free position at OALLERY which kind of lined up with what I was doing at my previous job. I applied and then I was hired as assistant manager.

How would you describe your style?
That's a tough one. Since I've started working here it became a bit more specific. Kind of like a mix between streetwear and casual culture, with more baggy fits. It's kind of a change from what I used to wear at my previous job because now I've got a lot more freedom regarding the way I dress. I'm still developing my style as well, I think you never stop developing. The store is the perfect place for that since we've got such a big variety of brands that all do different things.

What got you into fashion?
It's always been a personal interest of mine. It kind of came about through my mother, who dressed me in all sorts of branded clothing when I was little. There's even a picture of me wearing leather pants, timberlands, and a Levi's denim jacket when I was like six years old. She always had an interest in fashion and wanted to study it, but times were different back then and there weren't the opportunities there are now. This made her funnel her creativity in the way she dressed both herself and me, sparking that same interest in myself.

Are there brands that you wore back then that you still wear now?
Not really, apart from Levi's and Converse. Those brands are classic and will always be relevant. It was a different time then of course, so the brands I wore back then were really cool… back then... Nowadays other brands lead the way.

So you weren't wearing any tracksuits back then?
No not at all, back then it was mostly shirts, henleys, those kinds of things. I started developing a sense of style when I got my first job in retail at Spare Time.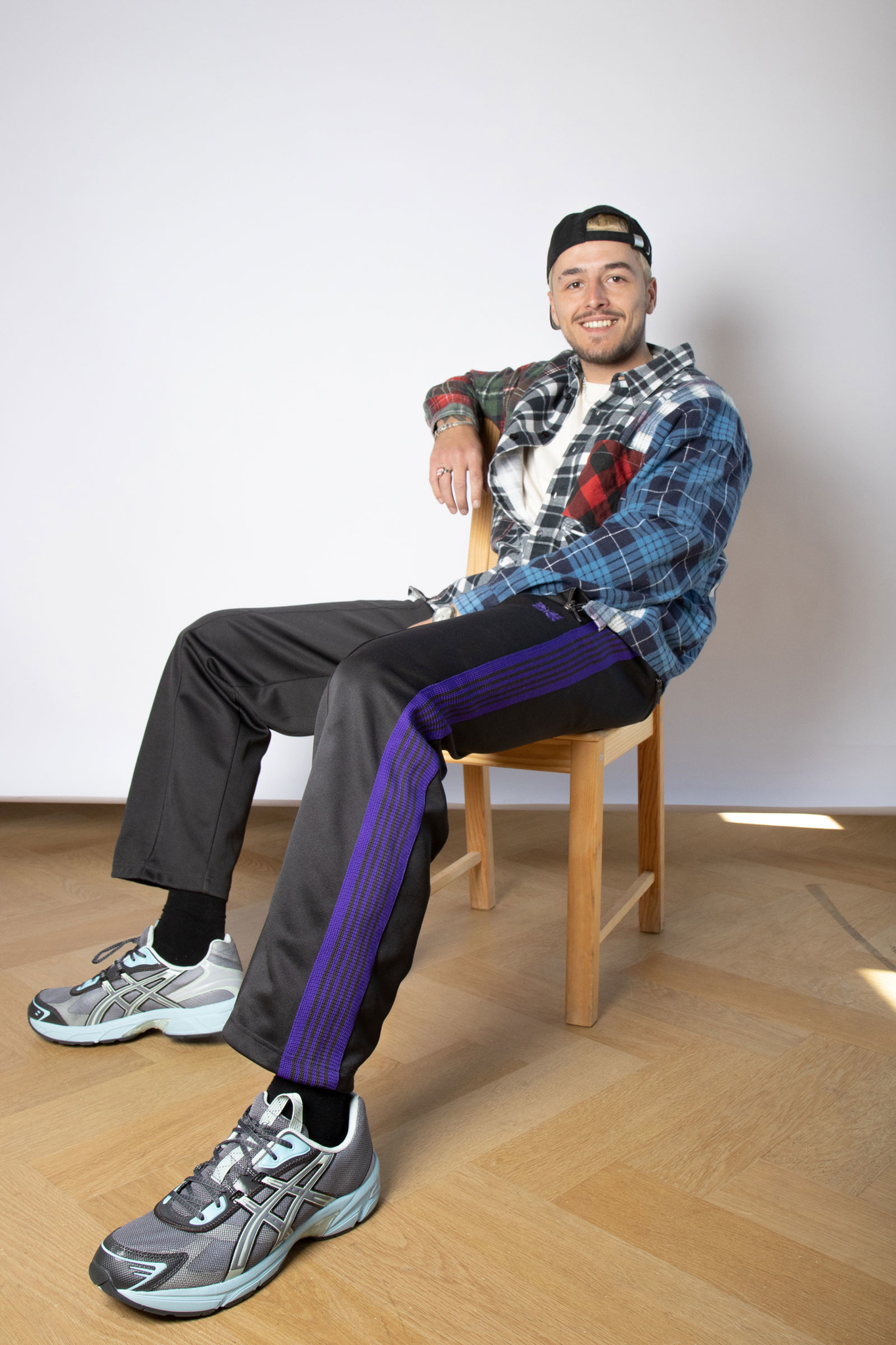 What can you tell me about Spare Time?
It was a store that had been around for almost 35 years before it closed. Correct me if I'm wrong, but I believe it started as a surf and ski store, which eventually branched out to lifestyle and fashion. It was an Iconic retail store and everyone in the retail space knows about it. I learned a lot from the owner, Ruud who is a legend in retail but sadly passed away. I think I've worked there for about a year, which also happened to be the final year that the store was around.

And now we're here.. What's the first item you've bought after you've started working at OALLERY?
First, I knew I had to get some proper wide pants. I was wearing slim fits at the time and I needed to step up my game when it came to wide-fitting trousers. The first ones I bought were the Alphadry dock pants from Nanamica. Classic. And together with the black and red Salomon XT6's, an instant hit.

Those items kind of became part of your uniform right?
Yeah definitely, it was a starting point for a style I wanted to maintain for a while.

What collection are you looking forward to?
Always Needles. It's going to take a while since we've just got some in, but for next season I bought myself a cardigan and track pants, both of which are sick.

What do you like about Needles?

The combination of being mature, kind of like high fashion-y, but also it being a bit playful in the colors they use. They also just make really nice track pants. I wouldn't mind wearing tracksuits every day, but I'm worried that it might come across as a bit lazy. I try to balance that out a little bit.

Is Needles your favorite brand in store?
Yeah, I do think so. It's what I could wear any day. But I also really like Story MFG, because of the designs and the story behind it. I've never seen a brand before that focuses so much on the ecological and ethical production of clothing. I'm also really here for the whole hippie vibe, peace out dude.

What Item surprised you most this season?
The We11done vests. I didn't expect that of them, the classic silhouette but with the purple colorway. I think it's sick.

To round off the interview: What's the vibe going to be this summer?
Kind of cliché, but be yourself and don't forget to enjoy every day like it's your last.